IL MARSIGLIESE 1709 MARKED TAROT DECK (International customers)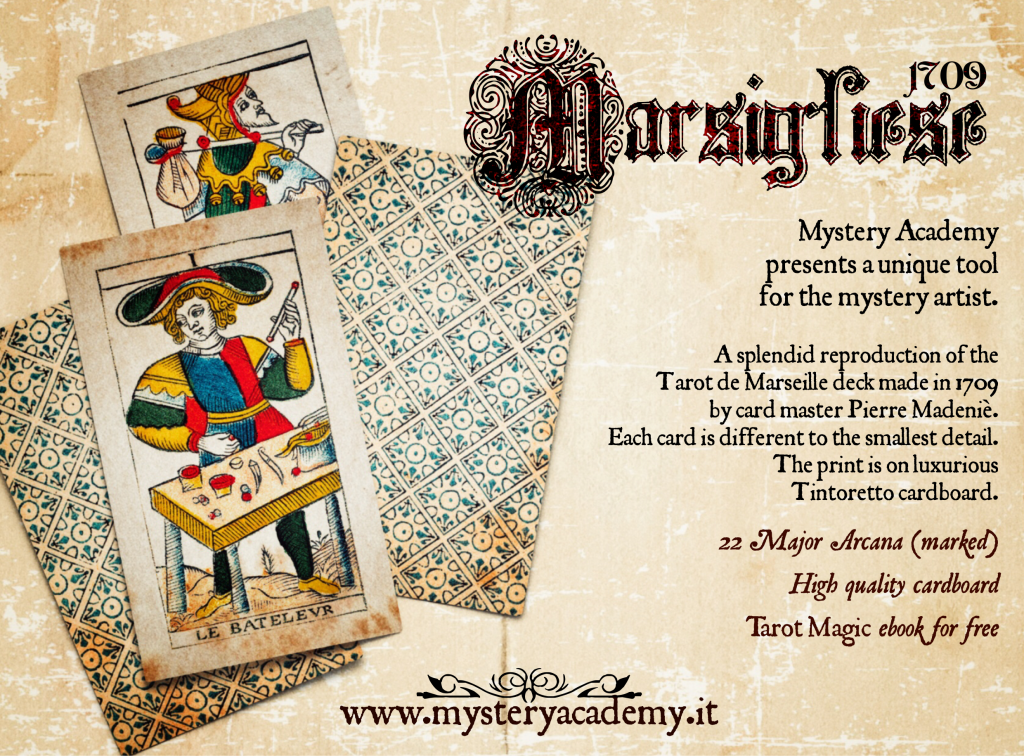 After producing various tarot decks and other cards for illusionists and mentalists, Matteo Filippini and Mystery Academy created a splendid new deck of Tarot cards, Il Marsigliese 1709.
The 22 Major Arcana cards are graphically inspired by the tarot created in 1709 by master cardmaker Pierre Madenié.
The cards have "marked" backs, a feature of great utility for the mystery entertainers.
The pride of this set, however, is the very high quality of the print and the luxurious cardboard; each deck Il Marsigliese 1709 has been printed on high grammage Tintoretto stock (350 g).
Each card (front and back) is completely different from all the others to the smallest detail, in order to recreate the feel of a precious antique deck!
Each deck is contained in a burgundy velvet bag and accompanied by free Tarot Magic eBook by Matteo Filippini!

"The tarot cards made by Matteo are a true work of art. Careful attention to detail and a simple marking system that is invisible to the eyes of the spectator".
Luca Volpe

"Your Tarot deck arrived a couple of days ago, and I'm thrilled with it. I really think it's wonderful! I love the look of the cards, as they appear to be old, and the markings are clear and easy to see if you know where to look. That's important at my age! I'm going to have a lot of fun with them. I have a special reading that uses the Major Arcana, so I know exactly how I'll be using them"
Richard Webster
PLEASE NOTE:
Each decks costs EUROS 40.
Please note there are two different shipping options! One for Europe countries and one for US and Rest of World!
Shipping cost for Europe EUROS 10
Shipping cost for US and rest of the World EUROS 15
You can make payment with PayPal to
https://www.paypal.me/mattfilippini
If you have any questions, please contact us at noomenots@gmail.com